Reviewed by Staff writer, "Persian Heritage"
TAMIR actress and playwright performed Rumi – The Way of the Heart at the New York Open Center. Her performance both on stage and in the CD is one of passion and certain to invigorate yet relax the soul.
Being able to interpret a Rumi poem at a level of excellence is something that one is born with, rather than developed and TAMIR is an example of this at birth gift. Her sultry voice and musical accompaniment of Amir Vahab lures the listener into a world of serenity and peace yet, awakens the soul and embellishes the beauty of the Rumi poem.
Today we live in a fast paced world, one in which there is little time to relax and rid the body of daily tension. Rumi – The way of the Heart may be one of the ways to make the day a bit more tolerable.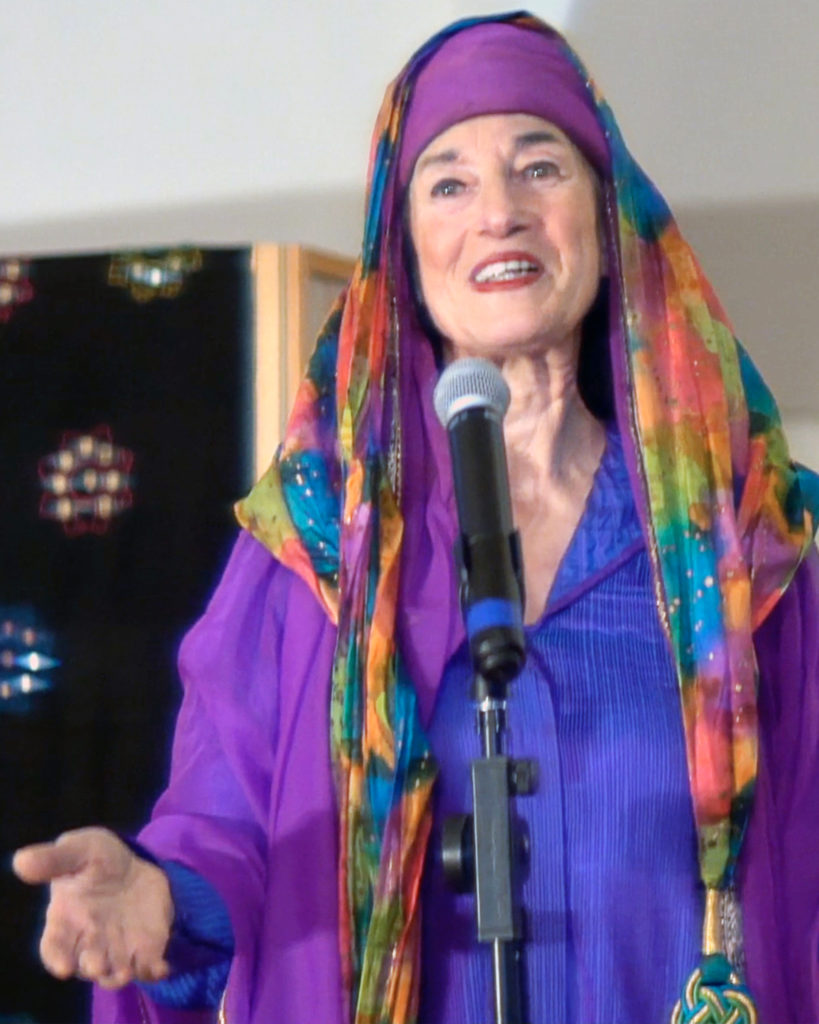 TAMIR – "Rumi – The Way of the Heart"
For those of us who feel pulled by a desire for spiritual nourishment, actress, poet, and playwright TAMIR has developed Rumi – The Way of the Heart, a one-woman stage performance and CD that makes Rumi's poetry accessible to a variety of audiences.
Accompanied by Iranian composer Amir Vahab, who plays the Daf, Setar, and Ney among other instruments, TAMIR recites poems and tells stories from the Masnavi, one of Rumi's greatest collections. With simple gestures and elegantly minimal movements, TAMIR talks to us about Rumi, about his friendship with Shams-i-Tabriz, and about his journey towards attaining union with the Beloved. Just as Rumi was a conduit for the Source, so is TAMIR a conduit for Rumi as she presents the stories with the humor and insight he injected them with.
The performance has been seen in venues from San Francisco to New York to Scotland.
In Rumi's words she tells us to "come, come whoever you are…come, yet again come."
Dear TAMIR,
Just to thank you so very much again for your outstanding presentation to the students and faculty of One Spirit Interfaith Seminary. What a wonderful, loving gift to all of us!
Not only were your choices of poems and stories perfect for our students who had been studying Islam and Sufism that month, the combination of your artistry, integrity and simply beautiful voice were a precious addition to our studies this year.
Rumi came alive for us in an extraordinary way through you and your accompanist, Amir Vahab, whose music was simply awe inspiring, as was your performance. Your interpretations of the Rumi poems and Sufi stories resulted in our students' and staff leaving class that day, transported to another dimension. It was a highlight of the year for all of us.
We were grateful for sharing your time and extraordinary talent.
May God continue to bless your work in the world. You offer upliftment in a challenging time.
Love, appreciation, and many blessings to you.
– Rev. Joyce Lichtenstein, Ph.D., Associate Director, One Spirit Interfaith Seminary